ARCS 2012 - Architecture of Computing Systems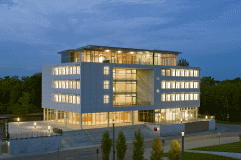 Photo: Garching Campus, TU Muenchen
Next Conference:
Conference Location
The conference will be held from February 28, 2012 through March 02, 2012 at the Garching Campus of the TU Muenchen, Germany.
Conference Program
The technical program is now online!
Confirmed Keynotes:
Koen De Bosschere
, HiPEAC Coordinator, Ghent University
"Computing Systems Research Challenges Ahead: The HiPEAC Vision 2011/2012"
>> HiPEAC press release
David August
, Princeton University
"Restoring Computing's former Glory"
Sebastian Steibl
, Intel Labs Braunschweig
"Learning from experimental silicon like the SCC"
Picture Gallery
Some pictures of the conference are now online!
Best Paper Award
Winners of the Best Paper Award, an Apple iPad sponsored by XILINX Corp., are:
Andreas Heinig, Vincent J. Mooney, Florian Schmoll, Peter Marwedel, Krishna Palem and Michael Engel
with their paper on

"Classification-based Improvement of Application Robustness and Quality of Service in Probabilistic Computer Systems".

Congratulations and thanks again to our sponsor!
Scope
The ARCS series of conferences has over 30 years of tradition reporting top notch results in computer architecture and operating systems research. The focus of the 2012 conference will be on platforms for embedded computer systems. Like the previous conferences in this series, it continues to be an important forum for computer architecture research.
In 2012 ARCS will be organized by the Institute for Integrated Systems of TU Muenchen and be hosted by the Institute of Advanced Studies (IAS), Garching campus near Munich.
The proceedings of the ARCS 2012 conference will be published in the Springer Lecture Notes on Computer Science (LNCS) series. All papers of workshops associated to ARCS 2012 will be published in a common proceedings volume of the Lecture Notes in Informatics (LNI) series of GI and will also be available via IEEE Xplore.
Call for Papers:
Authors are invited to submit original, unpublished research papers on one of the following topics:
Architectures and design methods/tools for robust, failure tolerant, real time embedded systems.
Cyber physical systems and distributed computing architectures.
Multi-/manycore architectures, memory subsystems, and communication architectures for reliable systems.
Tool support for manycore systems including but not limited to programming models, runtime systems, middleware, and verification.
Generic and application specific accelerators for multicore architectures.
Adaptive system architectures such as reconfigurable systems in hardware and software.
Organic and Autonomic Computing including both theoretical and practical results on selforganization, self-configuration, self-optimization, self-healing, and self-protection techniques.
Operating Systems including but not limited to scheduling, memory management, power management, and RTOS.
Energy-aware computing, power efficient computing architectures.
System aspects of ubiquitous and pervasive computing such as sensor nodes, novel input/output devices, novel computing platforms, architecture modeling, and middleware.
Applications of manycore embedded systems.
Workshop and Tutorial Proposal:
Proposals for workshops and tutorials within the technical scope of the conference are solicited. Submissions should be done through email directly to the corresponding chairs.

More information:
Camera-ready Paper Submission
All authors are requested to submit their camera-ready papers until Dec. 15, 2011
The ARCS 2012 proceedings will be published by Springer as part of their LNCS series. There is a strict page limit of 12 pages per paper. Please read carefully the detailed formatting instructions at Springer's website.
Please submit:
a zip file through EasyChair containing

the final PDF of your paper and
a src directory with all the source files (LaTeX or Word, including figures)

a copyright form (PDF) signed by one author on behalf of all the authors of the paper
by December 15th, 2011 at the very latest. We are on a rather strict publishing schedule because of the Christmas holidays.
Please send your signed copyright form to the Publication Chair either as a scanned pdf or by fax. Question regarding the camera ready paper may be directed to the Publication Chair:

Walter Stechele
Email: walter.stechele@tum.de
Fax: +49 89 289 28323
Important Dates
| | |
| --- | --- |
| Paper submission deadline: | September 30, 2011 October 7, 2011 |
| Workshop and tutorial proposals: | October 15, 2011 |
| Notification of acceptance: | November 20, 2011 |
| Camera ready papers: | December 15, 2011 |
Sponsors